Beef Stroganoff
Regular price

Sale price

$11.70
We have another stew-pendously spud-tacular dish for you!
Made for chilly winter nights (or whenever you need that stroganoff-fix), our 8-hour slow cooked beef chunks are almost too tender. The thick, creamy sauce with hints of smokey flavour perfectly coats the sweet, soft carrots and button mushrooms. Paired perfectly with peeled, smashed spuds you'll be licking the container clean.
So beef up and get strong with our stroganoff.
Servings per package:
1
Serving size:
350g

Average
quantity per
serving

Average
quantity per
100 g

Energy
1420
KJ
405
KJ
Protein
27.1

g
7.8

g
Fat total
13.5
g
3.9

g
saturated
7.6
g
2.2
g
Carbohydrates total
23.5

g
6.7

g
sugars
5.9

g
1.7

g
Sodium
389

mg
111

mg
Ingredients: Potatoes, Beef (25%), Carrot, Beef Stock (Water, Beef, Carrots, Celery, Cabbage, Onions, Parsley, Pepper), Salt, Yeast Extract, Sugar, Glucose, Food Colour (Caramel I)), Mushroom, Red Wine, Lactose Free Sour Cream (Reduced Fat Cream (Milk), Milk Solids, Thickener (1442), Enzyme (Lactase), Cultures (Milk)), Unsalted Butter, Lactose Free Milk (Homogenised and Pasteurised Full Cream Milk, Lactase (Enzyme)), Tomato Paste, Worcestershire Sauce (Sugar, Water, Apple Paste, Treacle, Food Acid (260), Thickener (1422), Salt, Spices, Colour (Caramel 150c), Natural Flavours (Garlic)), Corn Flour, Dijon Mustard (Water, Yellow Mustard Seeds (19%), Salt, Vinegar, Sugar, Acetic Acid (260), Celery Ground, Turmeric), Smokey Paprika, Salt, Pepper

Contains: Milk
Servings per package:
1
Serving size:
450g

Average
quantity per
serving

Average
quantity per
100 g

Energy
2010
KJ
447
KJ
Protein
41.8

g
9.3

g
Fat total
18.7
g
4.2

g
saturated
10.4
g
2.3
g
Carbohydrates total
31.4

g
7.0

g
sugars
7.7

g
1.7

g
Sodium
627

mg
139

mg
Ingredients: Potatoes, Beef (25%), Carrot, Beef Stock (Water, Beef, Carrots, Celery, Cabbage, Onions, Parsley, Pepper), Salt, Yeast Extract, Sugar, Glucose, Food Colour (Caramel I)), Mushroom, Red Wine, Lactose Free Sour Cream (Reduced Fat Cream (Milk), Milk Solids, Thickener (1442), Enzyme (Lactase), Cultures (Milk)), Unsalted Butter, Lactose Free Milk (Homogenised and Pasteurised Full Cream Milk, Lactase (Enzyme)), Tomato Paste, Worcestershire Sauce (Sugar, Water, Apple Paste, Treacle, Food Acid (260), Thickener (1422), Salt, Spices, Colour (Caramel 150c), Natural Flavours (Garlic)), Corn Flour, Dijon Mustard (Water, Yellow Mustard Seeds (19%), Salt, Vinegar, Sugar, Acetic Acid (260), Celery Ground, Turmeric), Smokey Paprika, Salt, Pepper

Contains: Milk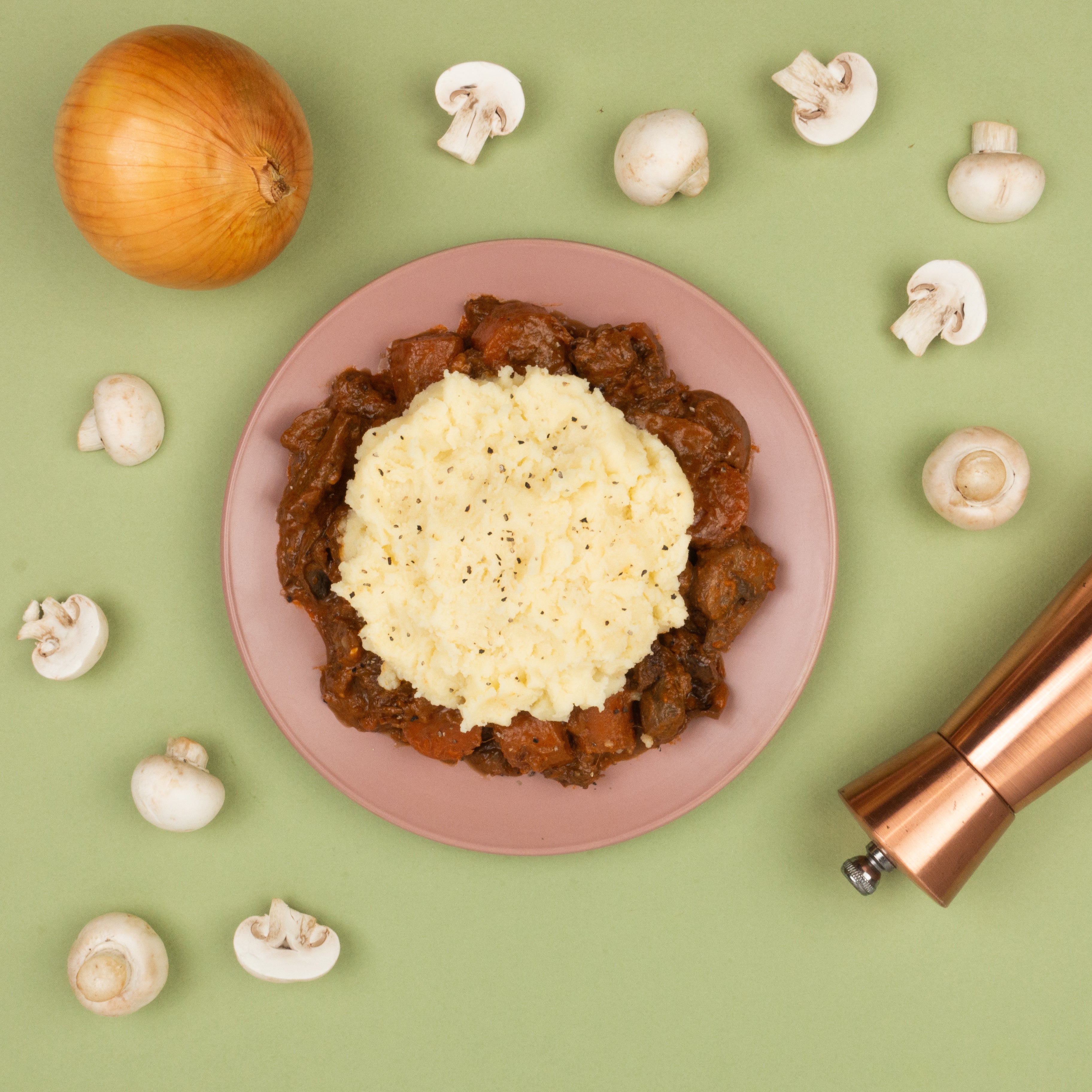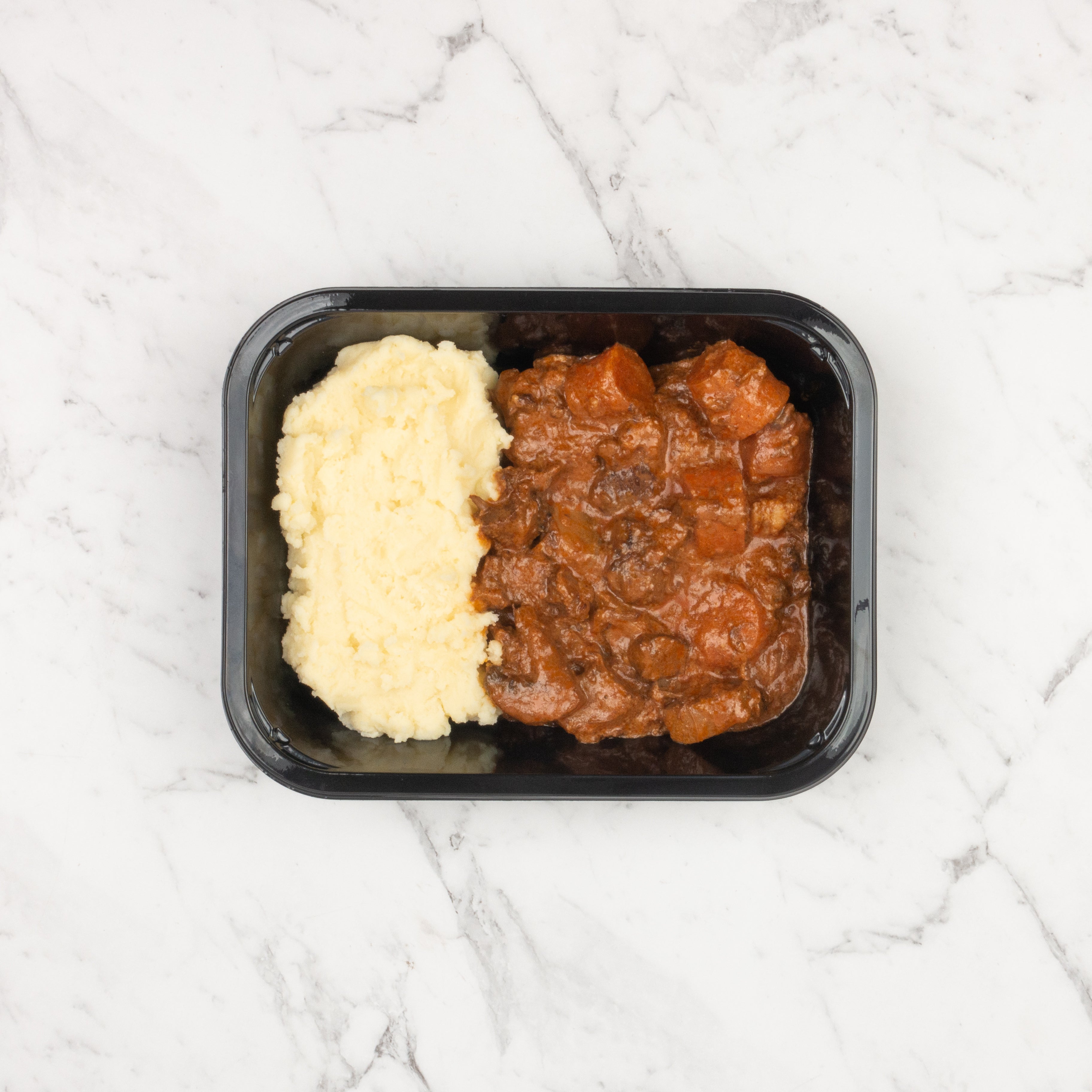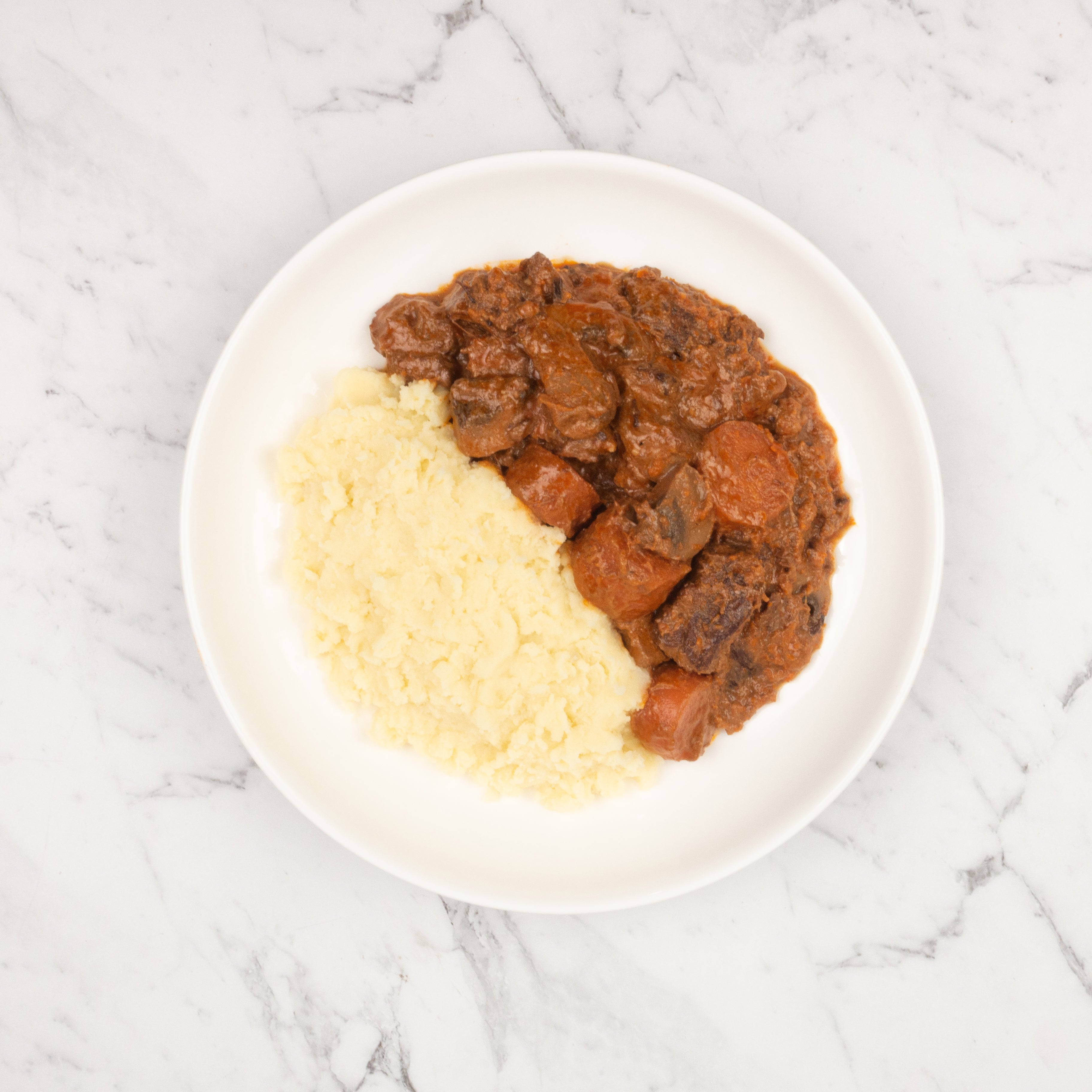 Thursday Arvo Delivery
our order cutoff is sunday 8pm for thursday delivery