Mango and Coconut Chicken
Regular price

Sale price

$11.70
Man-goes coco-nut for this one!
Succulent baked chicken breasts are glazed in a sweet and slightly spicy mango glaze flavoured with a hint of lime, then grilled until charred. These authentic thai flavours pair perfectly with a side of fluffy coconut rice mixed with sauteed onions and enoki mushrooms, plus a touch of chilli. Crunchy Steamed broccoli completes this thai-riffic dish.
It's absolutely mango-nificent!
Servings per package:
1
Serving size:
350g

Average
quantity per
serving

Average
quantity per
100 g

Energy
1350
KJ
386
KJ
Protein
29.8

g
8.5

g
Fat total
6.0
g
1.7

g
saturated
1.5
g
0.4
g
Carbohydrates total
33.4

g
9.5

g
sugars
4.5

g
1.3

g
Sodium
184

mg
53

mg
Ingredients: Chicken Breast (25%), White Rice, Broccoli, Enoki Mushroom, Onion, Mango (7%), Light Coconut Milk (7%) (Water, Coconut Extract (40%), Stabiliser (Guar Gum)), Chicken Stock (Water, Chicken, Onion, Carrot, Celery, Bay Leaf, Natural Flavours, Yeast Extract, Sugar, Vegetable Powders (Onion, Garlic, Corn), Black Pepper, Vegetable Extract Powder), Red Curry Paste (Red Onion, Lemongrass, Garlic, Galangal, Dried Red Chillies, Coriander Root, Cumin Seeds, Coriander Seeds, White Peppercorns, Kaffir Lime Leaf, Salt, Sunflower Oil), Lime, Garlic, Fresh Chilli

Contains:
Servings per package:
1
Serving size:
450g

Average
quantity per
serving

Average
quantity per
100 g

Energy
1870
KJ
415
KJ
Protein
43.5

g
9.7

g
Fat total
7.6
g
1.7

g
saturated
2.0
g
0.4
g
Carbohydrates total
45.9

g
10.2

g
sugars
5.7

g
1.3

g
Sodium
253

mg
56

mg
Ingredients: Chicken Breast (25%), White Rice, Broccoli, Enoki Mushroom, Onion, Mango (7%), Light Coconut Milk (7%) (Water, Coconut Extract (40%), Stabiliser (Guar Gum)), Chicken Stock (Water, Chicken, Onion, Carrot, Celery, Bay Leaf, Natural Flavours, Yeast Extract, Sugar, Vegetable Powders (Onion, Garlic, Corn), Black Pepper, Vegetable Extract Powder), Red Curry Paste (Red Onion, Lemongrass, Garlic, Galangal, Dried Red Chillies, Coriander Root, Cumin Seeds, Coriander Seeds, White Peppercorns, Kaffir Lime Leaf, Salt, Sunflower Oil), Lime, Garlic, Fresh Chilli

Contains: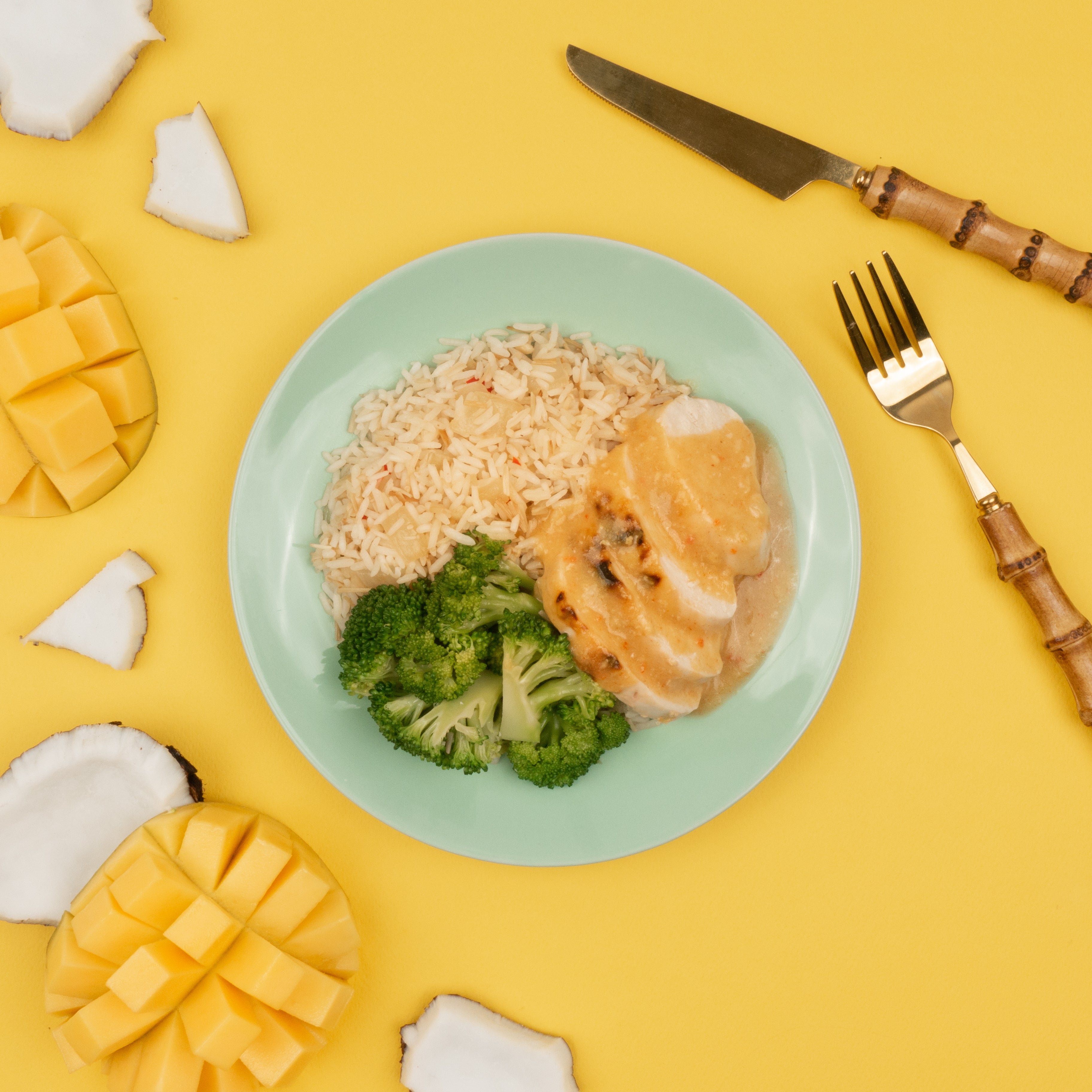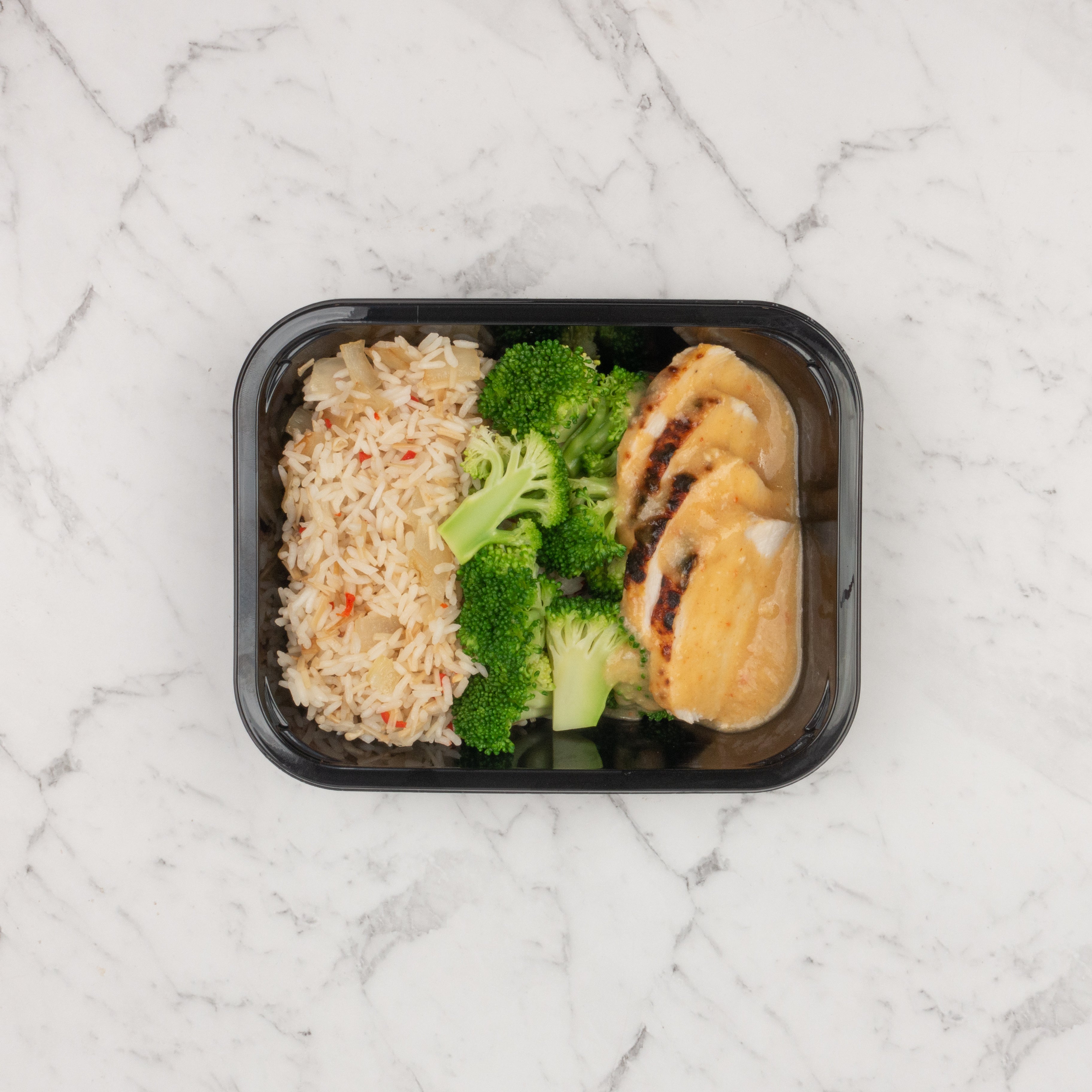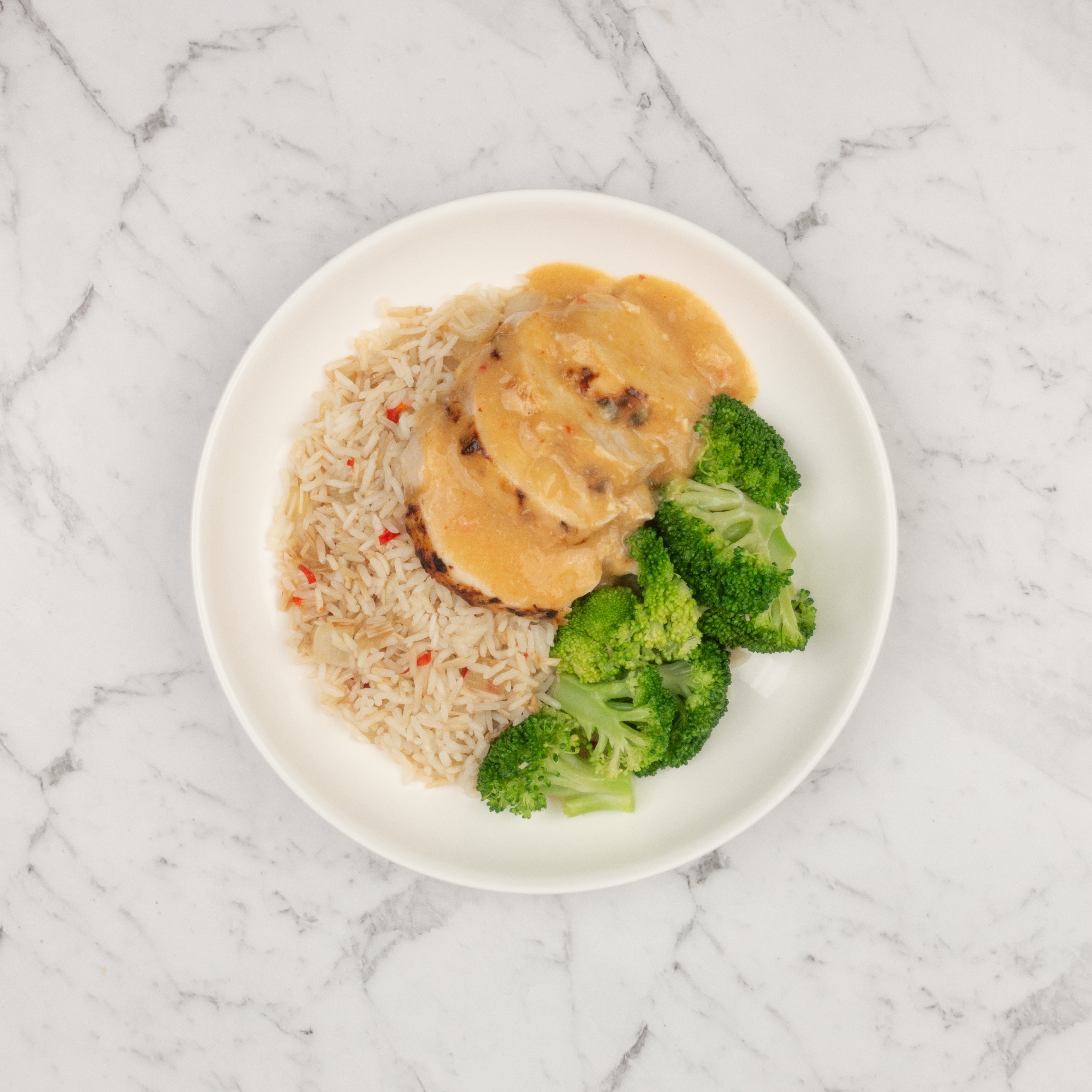 Thursday Arvo Delivery
our order cutoff is sunday 8pm for thursday delivery