Peri Peri Chicken with Spanish Rice
Regular price

Sale price

$12.20
This one is peri peri nice.
Chicken thighs are flame grilled then basted in a tangy and slightly spicy peri peri sauce. Sitting alongside is a fluffy, spiced, tomatoey rice arranged with an array of grilled chorizo, capsicum, zucchini and peas. On the side we've included a thick and creamy roasted garlic aioli, that's so good it's almost holy.
You won't want to say Nand-no to this!
Servings per package:
1
Serving size:
350g

Average
quantity per
serving

Average
quantity per
100 g

Energy
1710
KJ
489
KJ
Protein
27.0

g
7.7

g
Fat total
12.8
g
3.6

g
saturated
3.6
g
1.0
g
Carbohydrates total
42.7

g
12.2

g
sugars
9.5

g
2.7

g
Sodium
637

mg
182

mg
Ingredients: Chicken Thigh (25%), Basmati Rice (25%), Zucchini, Peas, Capsicum, Chicken Stock (Water, Chicken, Onion, Carrot, Celery, Bay Leaf, Natural Flavours, Yeast Extract, Sugar, Vegetable Powders (Onion, Garlic, Corn), Black Pepper, Vegetable Extract Powder), Roast Garlic Aioli (Vegetable Oil, Egg Yolk, Water, Whole Egg, Glucose Syrup, Sugar, Food Acids (Acetic, Citric), Salt, Roast Garlic 0.5%, Mustard Seed, Thickener (Xanthan Gum (contains Soy)), Garlic Extract, Turmeric, Spice Extract), Red Onion, Tinned Tomatoes (Tomato (60%), Tomato Juice, Acidity Regulator (Citric Acid)), Chorizo (Pork, water, Premix [Salt, Binder (Tapioca Starch, Rice Flour, Potato Starch), Mineral Salts (451, 450), Spices, Yeast Extract, Smoke Flavours, Antioxidant (316), Preservative (250, 234)], Acidity Regulators (326, 325, 262), Crushed Garlic), Peri Peri Sauce (Water, Vinegar, Onion Puree (11%), Salt, Lemon Puree (4%), Sunflower Seed Oil, Spices (Cayenne Pepper, African Bird's Eye Chilli, Paprika), Serrano Chilli, Garlic Puree, Stabiliser (Xanthan Gum, Propylene Glycol Alginate), Antioxidant (Ascorbic Acid), Rosemary Extract), Spring Onion, Tomato Paste, Spices, Salt, Pepper

Contains: Egg, Soy
Servings per package:
1
Serving size:
450g

Average
quantity per
serving

Average
quantity per
100 g

Energy
2260
KJ
502
KJ
Protein
37.9

g
8.4

g
Fat total
16.7
g
3.7

g
saturated
4.9
g
1.1
g
Carbohydrates total
54.6

g
12.1

g
sugars
10.6

g
2.4

g
Sodium
766

mg
170

mg
Ingredients: Chicken Thigh (28%), Basmati Rice (27%), Zucchini, Peas, Capsicum, Chicken Stock (Water, Chicken, Onion, Carrot, Celery, Bay Leaf, Natural Flavours, Yeast Extract, Sugar, Vegetable Powders (Onion, Garlic, Corn), Black Pepper, Vegetable Extract Powder), Roast Garlic Aioli (Vegetable Oil, Egg Yolk, Water, Whole Egg, Glucose Syrup, Sugar, Food Acids (Acetic, Citric), Salt, Roast Garlic 0.5%, Mustard Seed, Thickener (Xanthan Gum (contains Soy)), Garlic Extract, Turmeric, Spice Extract), Red Onion, Tinned Tomatoes (Tomato (60%), Tomato Juice, Acidity Regulator (Citric Acid)), Chorizo (Pork, water, Premix [Salt, Binder (Tapioca Starch, Rice Flour, Potato Starch), Mineral Salts (451, 450), Spices, Yeast Extract, Smoke Flavours, Antioxidant (316), Preservative (250, 234)], Acidity Regulators (326, 325, 262), Crushed Garlic), Peri Peri Sauce (Water, Vinegar, Onion Puree (11%), Salt, Lemon Puree (4%), Sunflower Seed Oil, Spices (Cayenne Pepper, African Bird's Eye Chilli, Paprika), Serrano Chilli, Garlic Puree, Stabiliser (Xanthan Gum, Propylene Glycol Alginate), Antioxidant (Ascorbic Acid), Rosemary Extract), Spring Onion, Tomato Paste, Spices, Salt, Pepper

Contains: Egg, Soy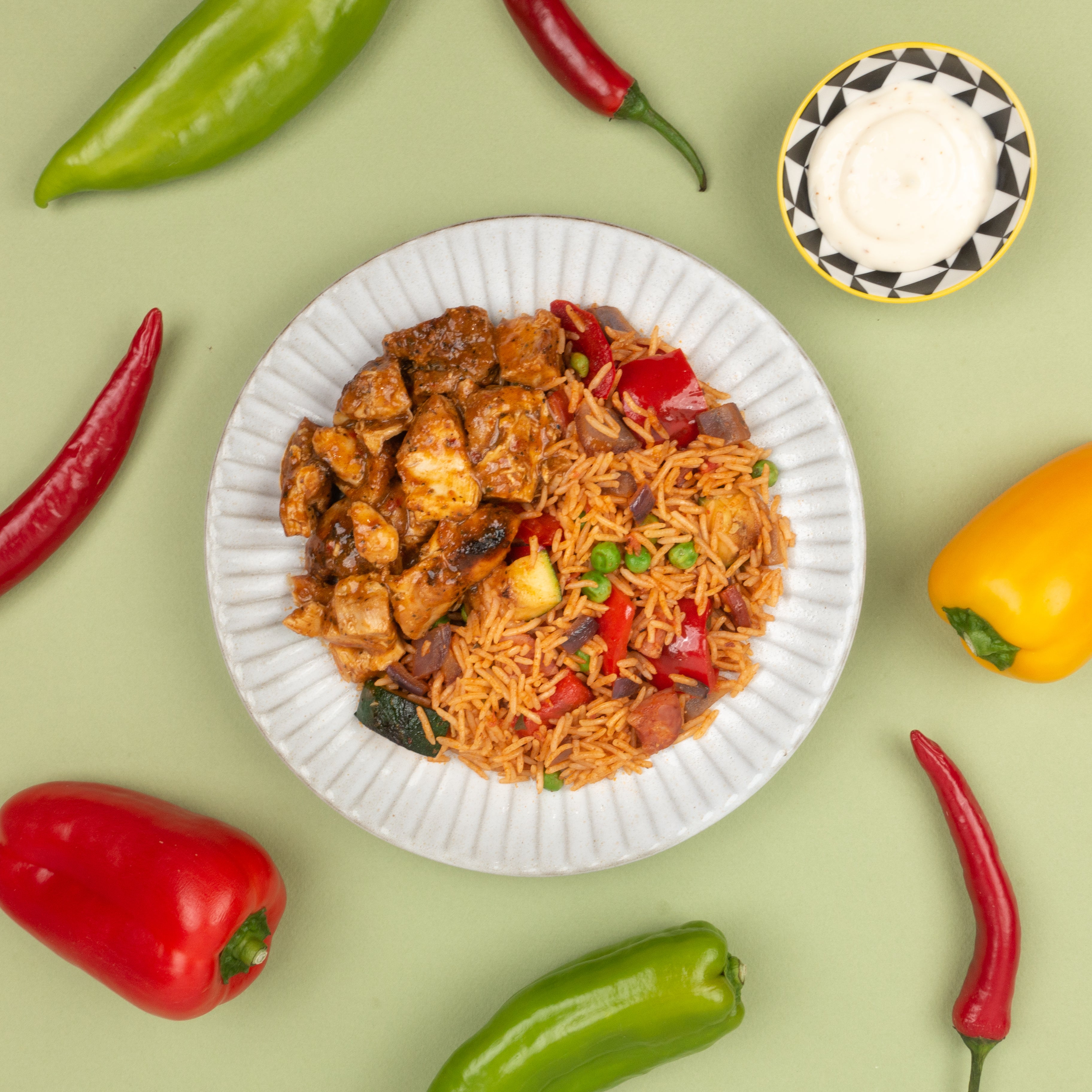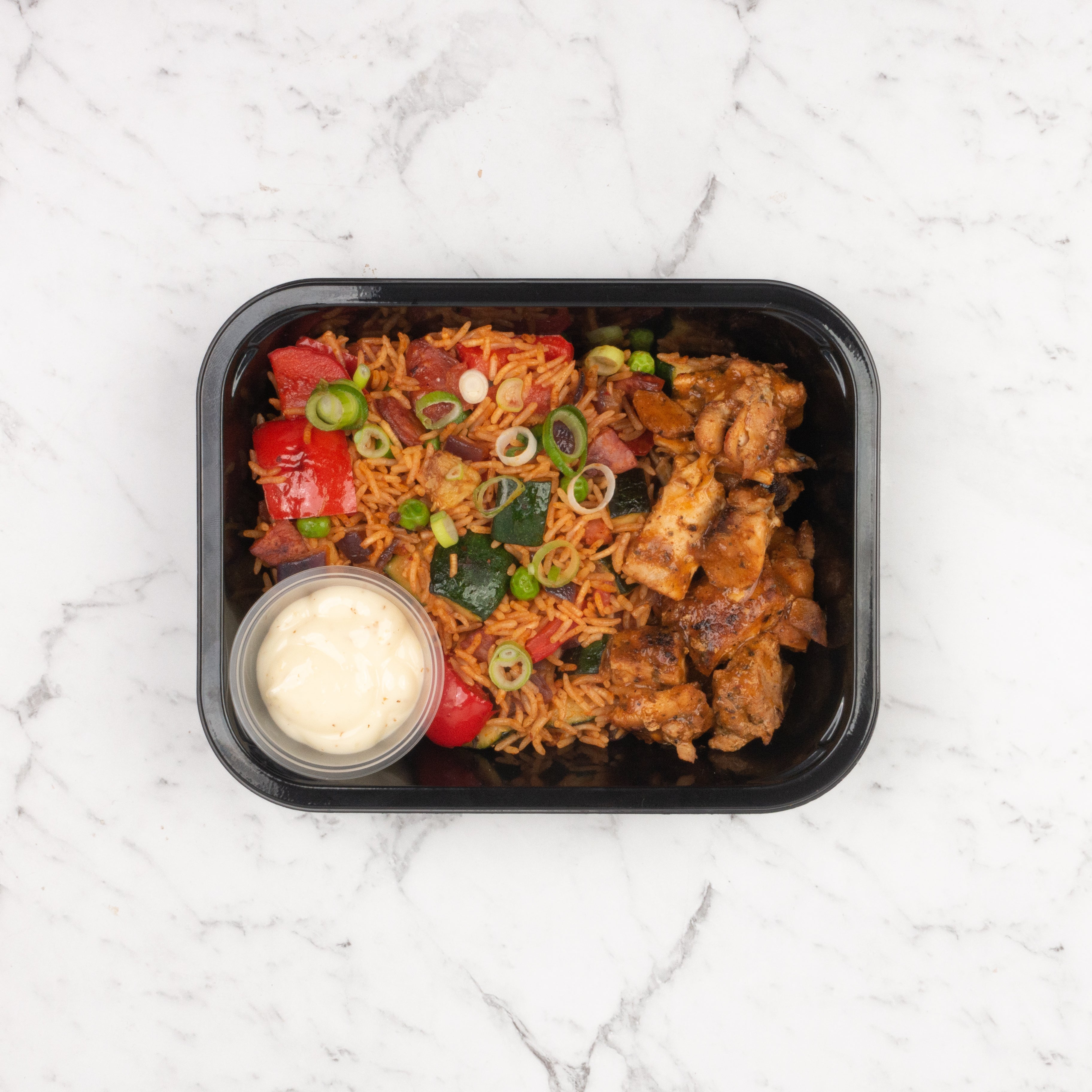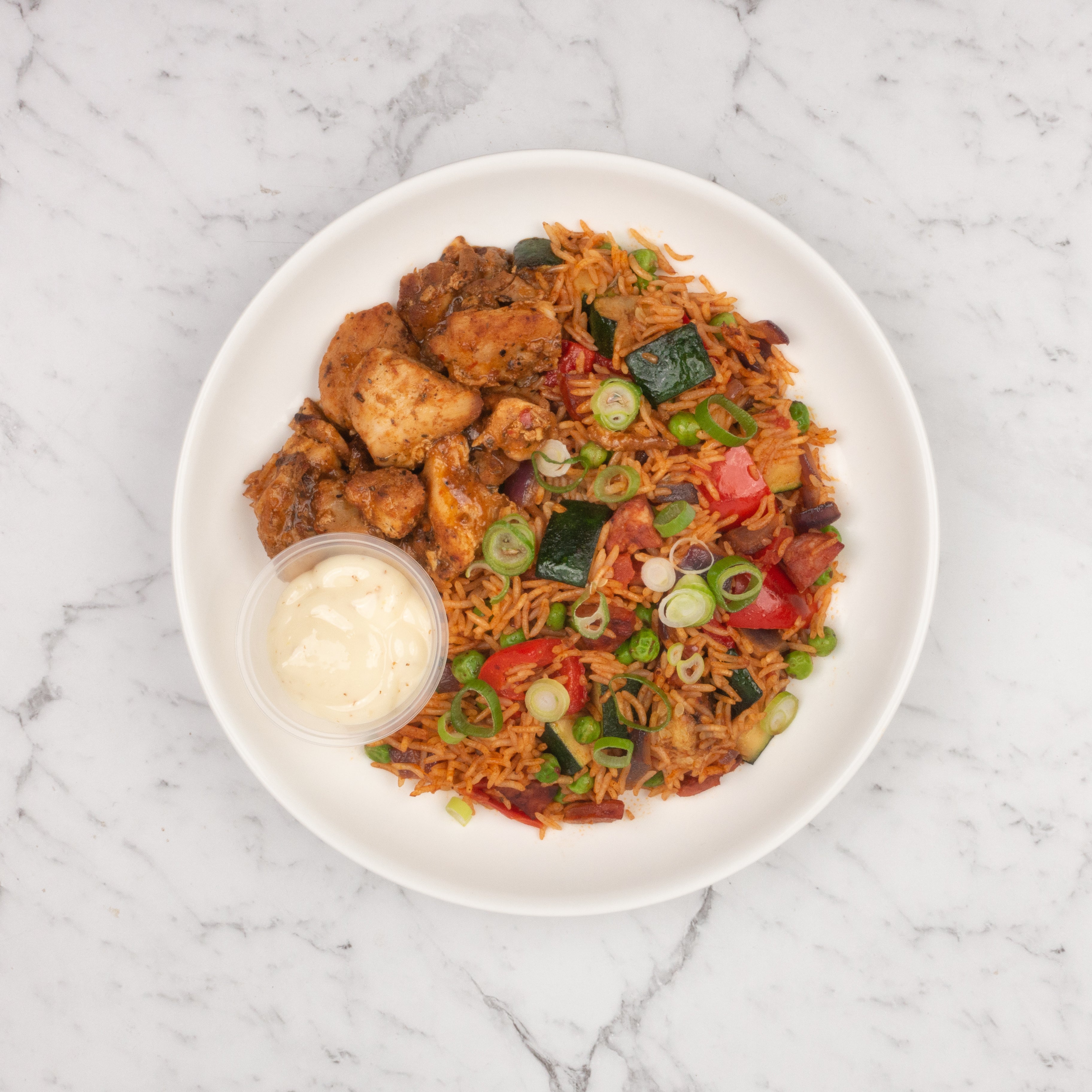 Thursday Arvo Delivery
our order cutoff is sunday 8pm for thursday delivery