Spiced Beef with Roast Potatoes and Yogurt Sauce
Regular price

Sale price

$11.60
Meal prep just got a little spicier.
Beef mince is slowly simmered in a sauce packed full of warm and hearty authentic middle eastern spices. It is accompanied by capsicum, eggplant and a mix of high fibre beans. Crispy, spiced roast potatoes help to soak up the gravy, and a side of minty, garlicky yoghurt sauce is perfect for drizzling on top. 
So good, yogurta be coming back for more.
Servings per package:
1
Serving size:
350g

Average
quantity per
serving

Average
quantity per
100 g

Energy
1430
KJ
410
KJ
Protein
29.2

g
8.3

g
Fat total
10.9
g
3.1

g
saturated
5.6
g
1.6
g
Carbohydrates total
27.0

g
7.7

g
sugars
7.3

g
2.1

g
Sodium
470

mg
134

mg
Ingredients: Beef Mince (25%), Potato (25%), Tinned Tomatoes (Tomato (60%), Tomato Juice, Acidity Regulator (Citric Acid)), Capsicum, Eggplant, Coconut Yogurt (7%) (Water, Coconut Milk, Native Starch, Tapioca Syrup, Carob Bean Extract, Agar, Yoghurt Cultures and Probiotics), Beef Stock (Water, Beef, Carrots, Celery, Cabbage, Onions, Parsley, Pepper), Salt, Yeast Extract, Sugar, Glucose, Food Colour (Caramel I)), Onion, Chickpeas, Great Northern Beans, Lima Beans, Kidney Beans, Tomato Paste, Corn Flour, Harissa (Red Pepper (87%), Garlic, Coriander, Salt, Caraway, Acidity Regulator E330), Garlic, Lemon, Spices, Mint, Salt, Pepper

Contains:
Servings per package:
1
Serving size:
450g

Average
quantity per
serving

Average
quantity per
100 g

Energy
1930
KJ
430
KJ
Protein
42.2

g
9.4

g
Fat total
14.9
g
3.3

g
saturated
7.1
g
1.6
g
Carbohydrates total
33.6

g
7.5

g
sugars
9.3

g
2.1

g
Sodium
663

mg
147

mg
Ingredients: Beef Mince (28%), Potato (24%), Tinned Tomatoes (Tomato (60%), Tomato Juice, Acidity Regulator (Citric Acid)), Capsicum, Eggplant, Coconut Yogurt (7%) (Water, Coconut Milk, Native Starch, Tapioca Syrup, Carob Bean Extract, Agar, Yoghurt Cultures and Probiotics), Beef Stock (Water, Beef, Carrots, Celery, Cabbage, Onions, Parsley, Pepper), Salt, Yeast Extract, Sugar, Glucose, Food Colour (Caramel I)), Onion, Chickpeas, Great Northern Beans, Lima Beans, Kidney Beans, Tomato Paste, Corn Flour, Harissa (Red Pepper (87%), Garlic, Coriander, Salt, Caraway, Acidity Regulator E330), Garlic, Lemon, Spices, Mint, Salt, Pepper

Contains: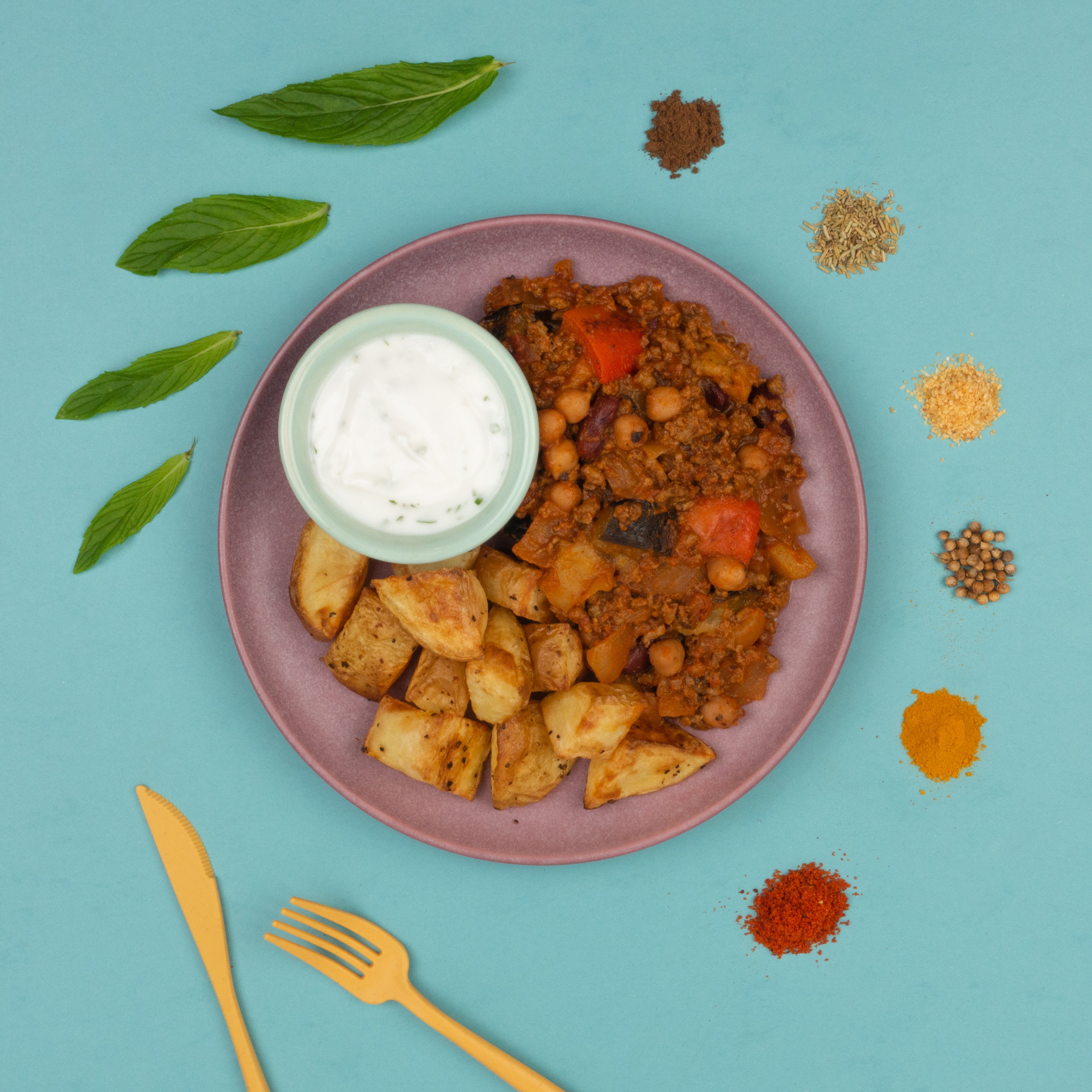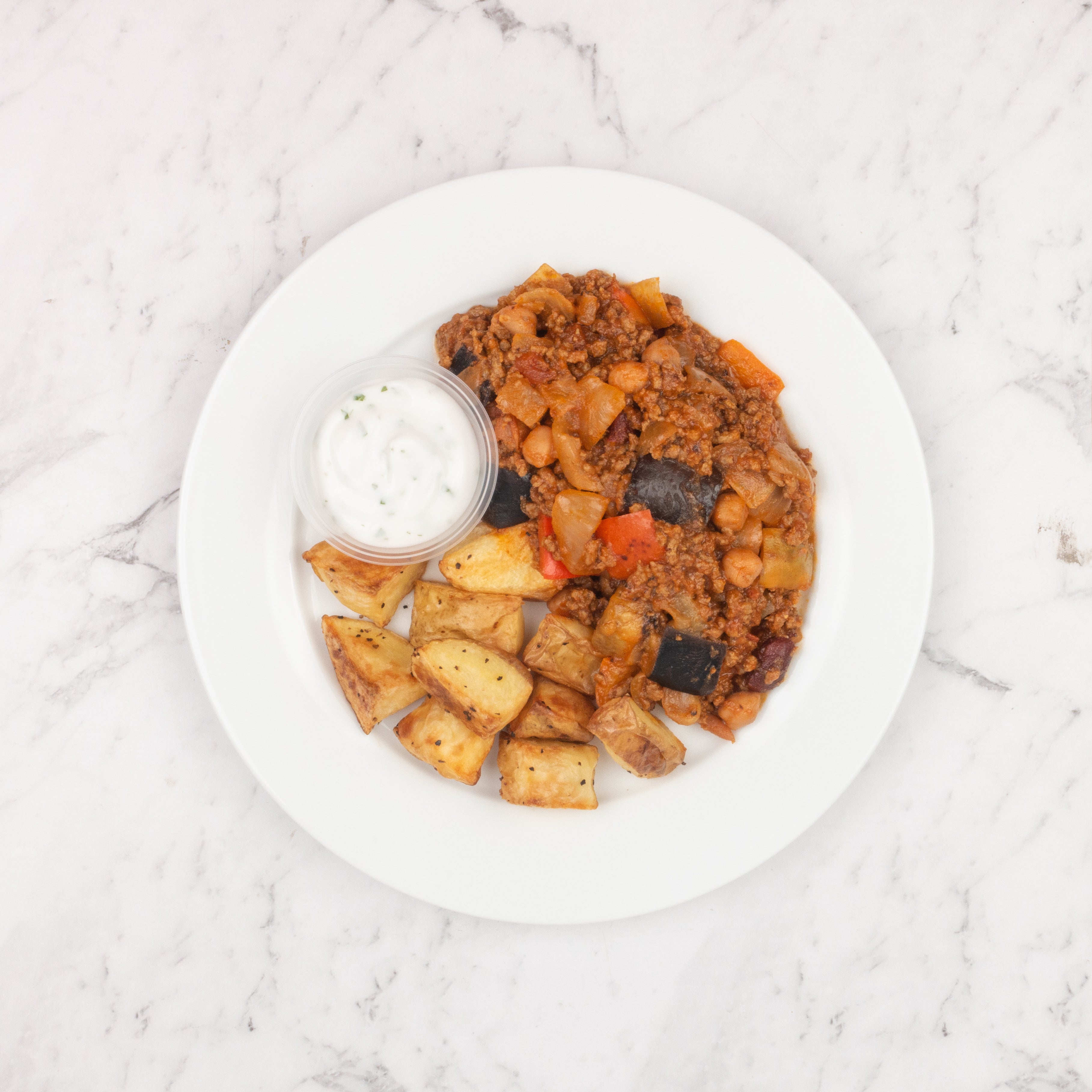 Thursday Arvo Delivery
our order cutoff is sunday 8pm for thursday delivery