Beef Curry with Coconut Rice
Regular price

Sale price

$11.80
Get ready to go coco-nuts for this curry in a hurry.
Transport your taste buds with this fragrant and rich beef curry. Beef chunks are slowly simmered in a thick and flavourful coconutty curry sauce, then mixed with super soft carrots and crunchy green beans. Served alongside is fluffy coconut rice to soak up all the goodness. 
So don't worry, just enjoy our curry!
Servings per package:
1
Serving size:
350g

Average
quantity per
serving

Average
quantity per
100 g

Energy
1490
KJ
426
KJ
Protein
26.6

g
7.6

g
Fat total
11.1
g
3.2

g
saturated
6.0
g
1.7
g
Carbohydrates total
34.6

g
10.8

g
sugars
4.4

g
1.2

g
Sodium
646

mg
185

mg
Ingredients: Beef (23%), White Rice (23%), Carrot, Beef Stock (Water, Beef, Carrots, Celery, Cabbage, Onions, Parsley, Pepper), Salt, Yeast Extract, Sugar, Glucose, Food Colour (Caramel I), Light Coconut Milk (11%) (Water, Coconut Extract (40%), Stabiliser (Guar Gum)), Chicken Stock (Water, Chicken, Onion, Carrot, Celery, Bay Leaf, Natural Flavours, Yeast Extract, Sugar, Vegetable Powders (Onion, Garlic, Corn), Black Pepper, Vegetable Extract Powder), Green Beans, Curry Paste (Chilli, Lemongrass, Garlic, Shallot, Ginger, Galangal, Sugar, Salt, Soya Bean Oil, Tamarind, Curry Powder (Mustard Seed, Fenugreek, Coriander Seed, Turmeric, Pepper, Chilli, Cumin, Cinnamon, Clove, Cumin, Coriander Seed, Cardamom, Bay Leaf), Coconut Sugar, Salt

Contains: Soy
Servings per package:
1
Serving size:
450g

Average
quantity per
serving

Average
quantity per
100 g

Energy
2120
KJ
472
KJ
Protein
39.2

g
8.7

g
Fat total
16.2
g
3.6

g
saturated
8.9
g
2
g
Carbohydrates total
47.3

g
10.5

g
sugars
6.0

g
1.3

g
Sodium
816

mg
181

mg
Ingredients: Beef (28%), White Rice (21%), Carrot, Beef Stock (Water, Beef, Carrots, Celery, Cabbage, Onions, Parsley, Pepper), Salt, Yeast Extract, Sugar, Glucose, Food Colour (Caramel I), Light Coconut Milk (11%) (Water, Coconut Extract (40%), Stabiliser (Guar Gum)), Chicken Stock (Water, Chicken, Onion, Carrot, Celery, Bay Leaf, Natural Flavours, Yeast Extract, Sugar, Vegetable Powders (Onion, Garlic, Corn), Black Pepper, Vegetable Extract Powder), Green Beans, Curry Paste (Chilli, Lemongrass, Garlic, Shallot, Ginger, Galangal, Sugar, Salt, Soya Bean Oil, Tamarind, Curry Powder (Mustard Seed, Fenugreek, Coriander Seed, Turmeric, Pepper, Chilli, Cumin, Cinnamon, Clove, Cumin, Coriander Seed, Cardamom, Bay Leaf) Coconut Sugar, Salt

Contains: Soy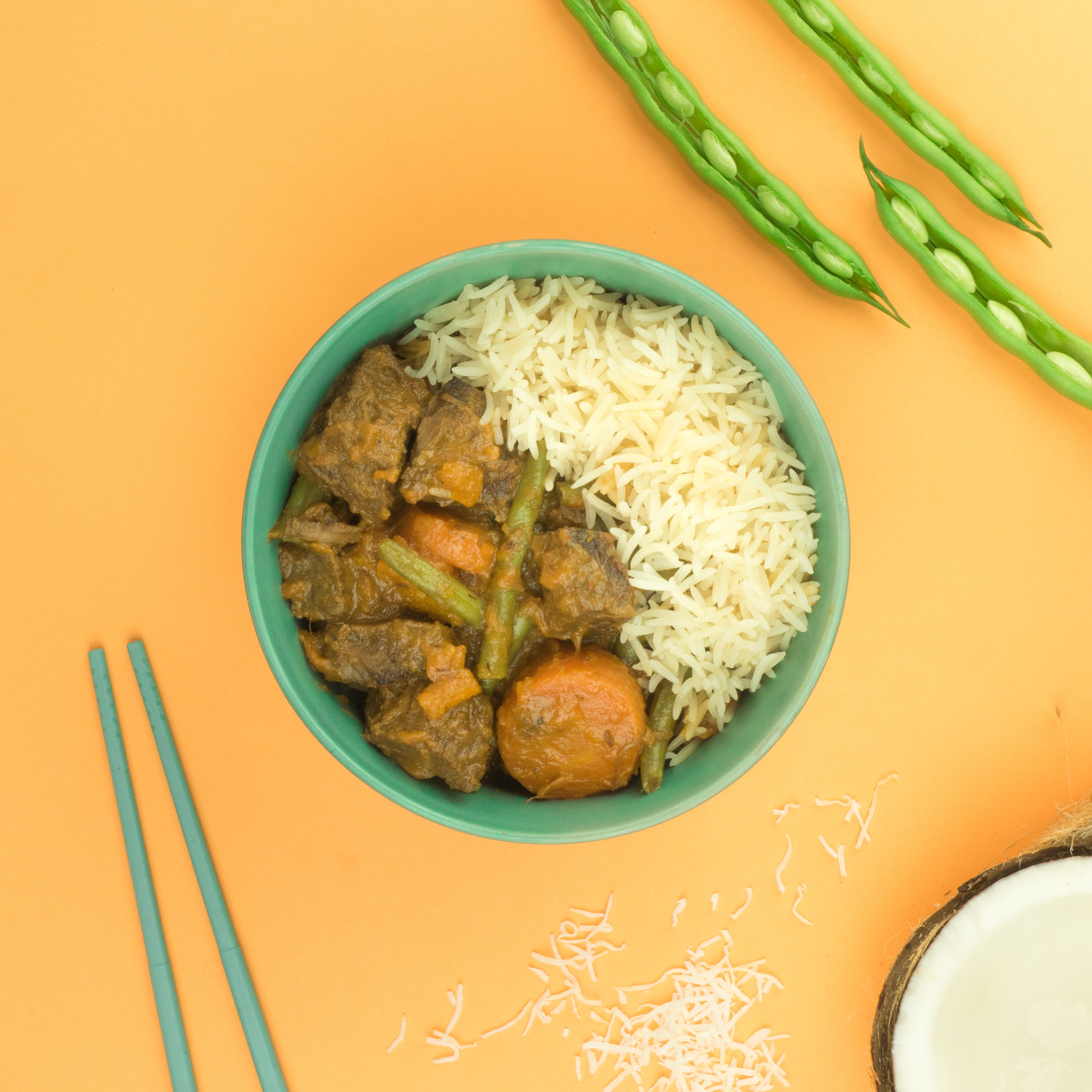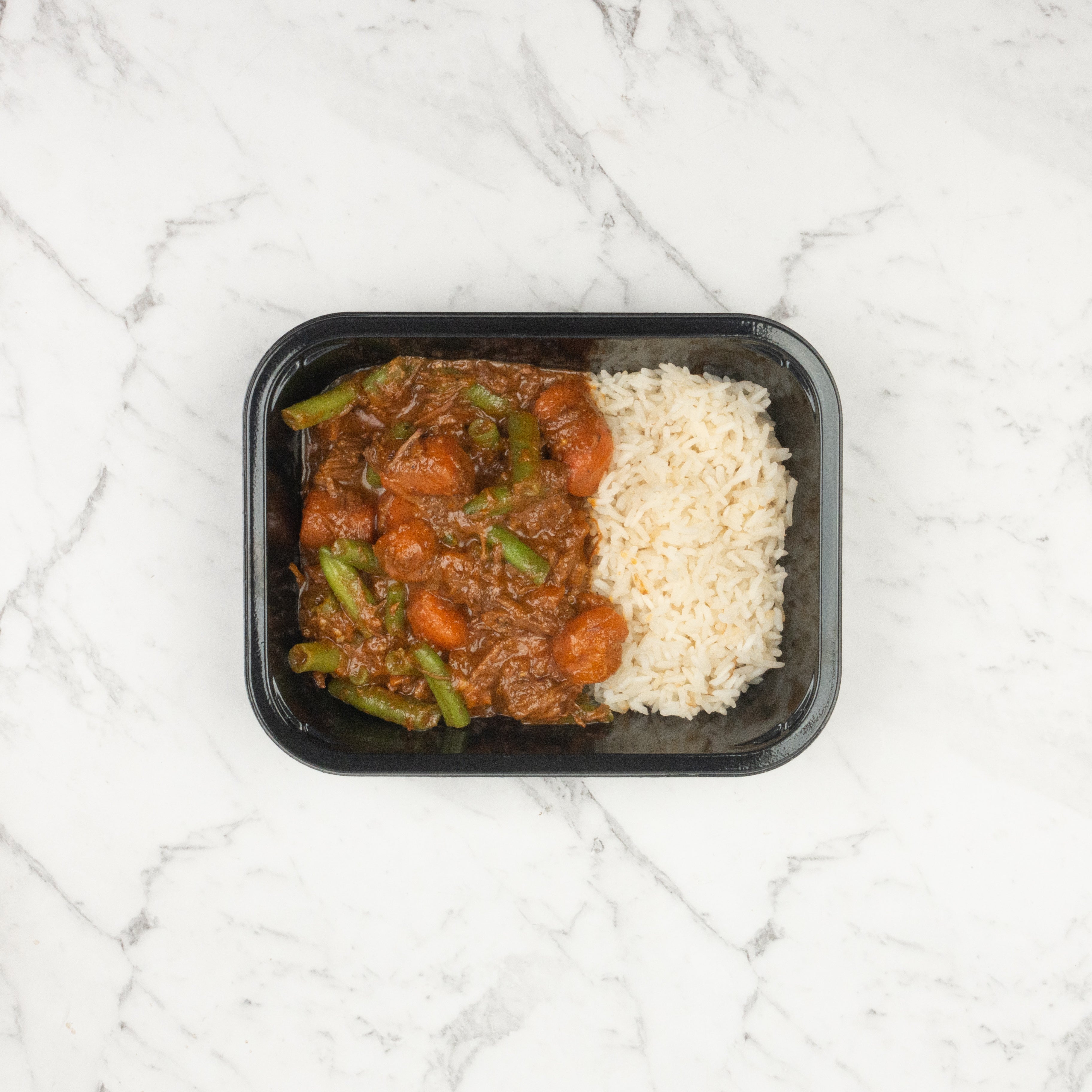 Thursday Arvo Delivery
our order cutoff is sunday 8pm for thursday delivery